Change isn't always easy, but sometimes its necessary. Recently, the Nagios Plugins website and team have undergone some changes, and for good reason.  There have been a few people who have caused a stir about the changes, and there's been some misunderstanding as to the reasons behind those changes, so we thought we'd share some relevant info with the community.
The changes were made because there was an organized effort by some individuals to undermine the project and move people to another solution.  Some of the previous team members decided "recently" to switch development to a new project after we started to employ some changes.  Except their decision to switch wasn't recent – they made it months ago.  This can be evidenced in part by their Git commits which show them beginning to make a switch as early as last September.  You'll notice the screenshot below showing a change that was made to start transitioning the Nagios plugins project to a new domain and project (original URL).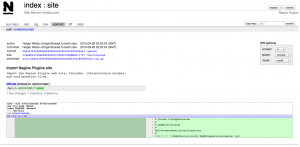 In addition to this and other similar changes, some of the previous team members started promoting competitors of Nagios in an effort to move people away from the project.  Our attempts to get a response from the previous team lead on multiple occasions to clarify what was happening was met with silence.  So we acted.
We stepped in to prevent these individuals from subverting the project.  We'll do what we need to do to preserve the various Nagios projects from people and companies with ulterior motives.
Its been an interesting study to watch what some people try to get away with in order to promote their ulterior motives.  One example of this is the outright lies and FUD promoted by Michael Friedrich, as can be seen in his calls for the Fedora/RedHat maintainers to automatically switch Nagios users to a competing solution.  Not surprising that Michael works for Netways GmbH – the same company that recently wrongfully filed Nagios trademark and domain registrations in secret in order to undermine Nagios and the community.  Only after we shamed them by publicly disclosing the details, did Netways finally return the trademarks and domains they were leveraging.  I think its safe to say that words like honesty, integrity, and ethics aren't valued or even understood by Netways and its employees.
We understand that it can get uncomfortable for individuals when evidence is presented that shows they acted less than honorably.  We at Nagios believe that who you work with is just as important as what it is that you're working on.  We will always chose to work with individuals with high ethical standards and a great attitude.  If you have skills, but you don't have values, you won't be on our team.  Period.
– Ethan Galstad, Nagios Founder and Defender